Lester and Sue Smith LEGACY TOWER
OUR NEW HOME FOR HEART, INTENSIVE CARE AND SURGERY
High Acuity Operating Rooms (Level 8)

6 high acuity ORs for neurosurgery, orthopedics, plastic surgery, transplant and general surgery
Integrated MRI scanner
 

Pediatric Intensive Care Units (Levels 9 – 12)

4 Pediatric ICU floors
Subspecialty PICUs including dedicated neuro-ICU and Surgical ICU
84 large private PICU rooms
Dedicated space for families
 

Heart Center (Levels 16-23)

8 floors
4 cardiac catheterization labs including integrated MRI scanner
4 cardiovascular operating rooms
3 cardiovascular ICU floors with 48 private rooms
2 cardiac acute care floors with 42 private patient rooms
Dedicated space for families
 

Helistop (Roof)

Enables transport of critically ill patients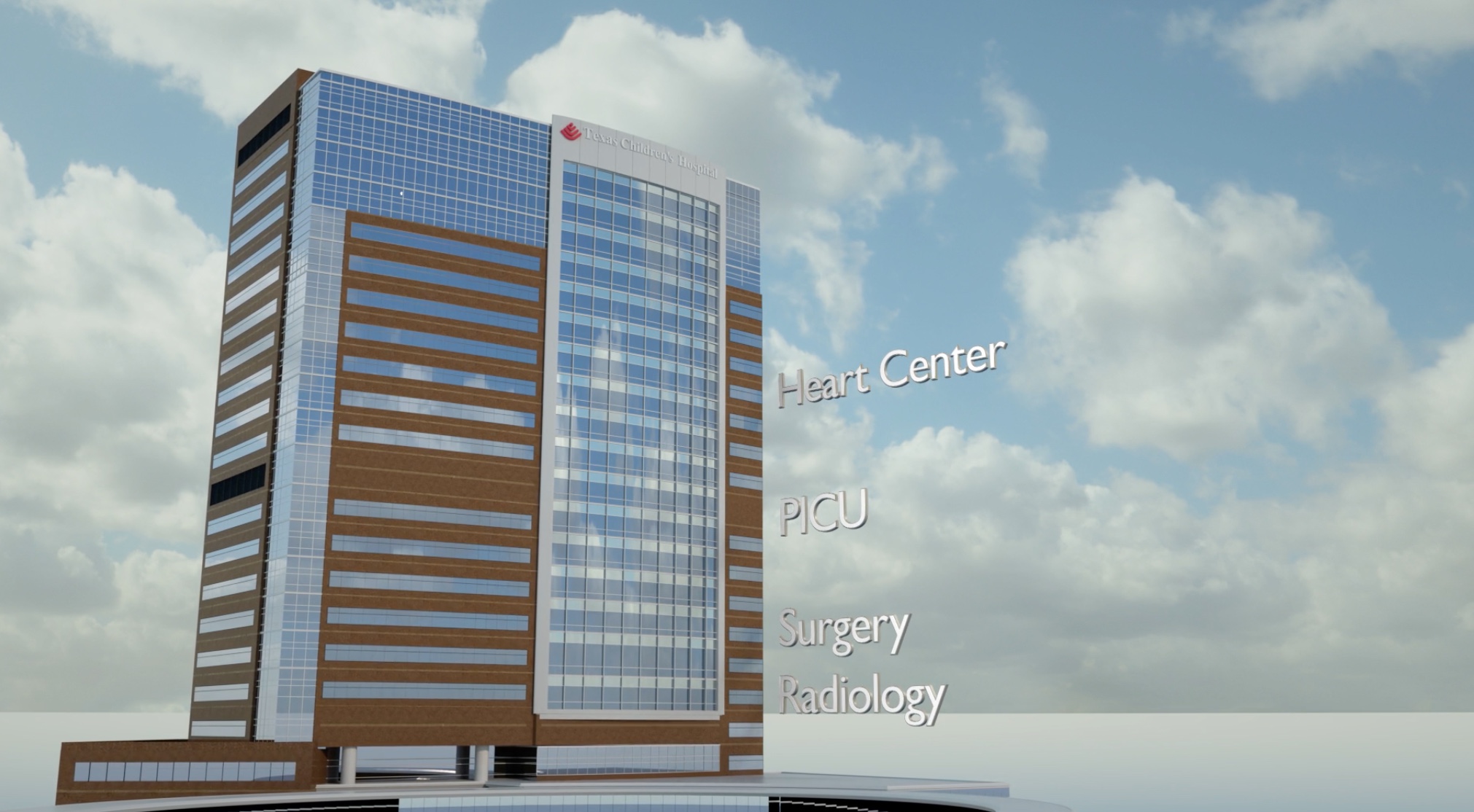 Texas Children's is known for providing highly-specialized care that often cannot be obtained elsewhere. Our multidisciplinary team of experts care for the most critically-ill children, those with the most complex medical needs — children who simply would not have survived just a few years ago.

The physical spaces where we have cared for these children for more than 20 years have served us well, but we have outgrown them. This is one of the biggest challenges Texas Children's has ever faced — and we are addressing these needs by reinvesting in core clinical services at our Texas Medical Center Campus to provide greater access to the children and families who need us.

Through this vertical expansion, Texas Children's is adding 640,000-square-feet. Our Legacy Tower will house new and expanded operating rooms, as well as a new pediatric intensive care unit (ICU) that will span four floors and open with 84 beds, including dedicated neurology ICU rooms, surgical ICU rooms, and a progressive care unit.
Legacy Tower will also be the new home of Texas Children's Heart Center® – ranked #1 in the nation by U.S. News & World Report in cardiology and heart surgery. The Heart Center includes an outpatient clinic, catheterization lab, cardiovascular intensive care unit, four cardiovascular operating rooms and cardiology acute care beds.

The tower will also have a helistop, allowing for even greater access to Texas Children's for the most critically-ill patients.
NOW OPEN: Phase 1 (Floors 7-14)
Public Spaces

Radiology, Supply Chain, Sterile Supply/Processing, BioMed

High Acuity ORs

PICU/Surgical/Neuro ICU/PCU

Critical Care Offices
Phase 2 Opening, September 2018 (Floors 16-23)
Stat Lab/Blood Bank and Auditorium
CVICU
CVOR
Cardiology, Congenital Heart Surgery, CV Anesthesia Offices
Cath Labs
Heart Center Clinics
Cardiology Acute Care
Phase 3 Opening, October 2018